Western & Southern Cincinnati Masters Tickets 2014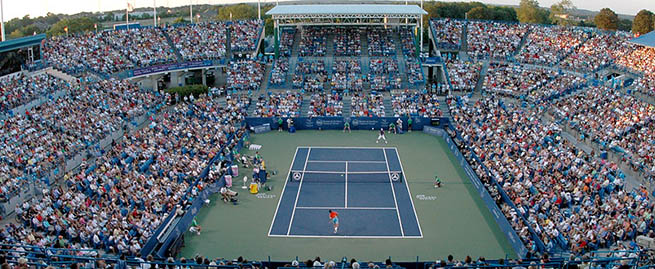 Western & Southern Open tickets are currently available from TennisTicketNews for all of the sessions in the 2014 schedule. Also known as the Cincinnati Masters, the Western & Southern Financial Masters is an annual tennis tournament held in the Cincinnati suburb of Mason, Ohio. The event started on September 18, 1899 and is currently the oldest tennis match in America enjoyed in its original city. For a full list of tickets for the 2014 Western and Southern Open, check the full schedule below to find the sessions and dates that you want to attend.
About Western & Southern Open Tickets
Cincinnati Masters tennis tickets are available for all sessions and dates.
Schedule for the Western & Southern Open is updated daily.
Tickets for the 2014 Cincinnati Masters can be purchased using secure checkout.
eTickets and downloadable tickets for the Western & Southern Open are also on sale.
Western & Southern Cincinnati Masters Information
The Western and Southern Open is played at the Lindner Family Tennis Center in Mason, Ohio. It features three tennis stadiums, and is the only event not in the Grand Slam with more than two permanent stadiums. Lindner Family Tennis Center, first built in 1981 and enhanced over the years, includes a capacity of 10,500. The location features a total of 10 courts.
The 2014 Western & Southern Open schedule for 2014 is from August 9 through August 17. The total prize money for this event is $3,079,555 and is considered a Premier Tier played on a hard court surface. Past winners of the event for the women's title in 2012 was Na Li and the doubles event Andrea Hlavackova and Lucie Hradecka. The 2011 winner for the single's title was Maria Sharapova and the doubles were Yaroslava Shvedova and Vania King. The men's single 2012 winner was Roger Federer and for the doubles Robert Lindstedt and Horia Tecau and the 2011 men's winner was Andy Murray for the single title and Mahesh Bhupathi and Leander Paes for the doubles event.
Special events for the Western & Southern Open will be Kids Day on August 10, 2013. There will be an exhibition with ATP or WTA stars. There will be a High School Day and a Family Night plus a Saks Fifth Avenue Night on the Runway on Aug. 14, 2013. Don't miss out on all the fun at the Western & Southern Cincinnati Masters 2013.

Past Western & Southern Open Champions
| | | |
| --- | --- | --- |
| Year | Singles | Doubles |
| 2013 | Rafael Nadal | Bob Bryan / Mike Bryan |
| 2012 | Roger Federer | Robert Lindstedt / Horia Tecău |
| 2011 | Andy Murray | Mahesh Bhupathi / Leander Paes |
| 2010 | Roger Federer | Bob Bryan / Mike Bryan |
| 2009 | Roger Federer | Daniel Nestor / Nenad Zimonjic |
| 2008 | Andy Murray | Bob Bryan / Mike Bryan |
| 2007 | Roger Federer | Jonathan Erlich / Andy Ram |
| 2006 | Andy Roddick | Jonas Bjorkman / Max Mirnyi |
| 2005 | Roger Federer | Jonas Bjorkman / Max Mirnyi |
| 2004 | Andre Agassi | Mark Knowles / Daniel Nestor |
| 2003 | Andy Roddick | Bob Bryan / Mike Bryan |
| 2002 | Carlos Moya | James Blake / Todd Martin |
| 2001 | Gustavo Kuerten | Mahesh Bhupathi / Leander Paes |
| 2000 | Thomas Enqvist | Todd Woodbridge / Mark Woodforde |
| 1999 | Pete Sampras | Jonas Bjorkman / Byron Black |
| 1998 | Patrick Rafter | Mark Knowles / Daniel Nestor |
| 1997 | Pete Sampras | Todd Woodbridge / Mark Woodforde |
| 1996 | Andre Agassi | Mark Knowles / Daniel Nestor |
| 1995 | Andre Agassi | Todd Woodbridge / Mark Woodforde |
| 1994 | Michael Chang | Alex O'Brien / Sandon Stolle |
| 1993 | Michael Chang | Andre Agassi / Petr Korda |
| 1992 | Pete Sampras | Todd Woodbridge / Mark Woodforde |
| 1991 | Guy Forget | Ken Flach / Robert Seguso |
| 1990 | Stefan Edberg | Darren Cahill / Mark Kratzmann |
| 1989 | Brad Gilbert | Ken Flach / Robert Seguso |
| 1988 | Mats Wilander | Rick Leach / Jim Pugh |