Western & Southern Cincinnati Masters Tickets 2013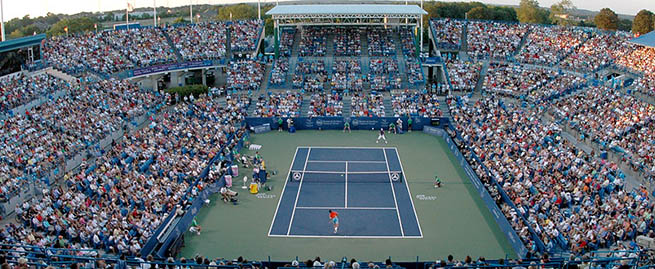 Western Southern Cincinnati Tennis Masters in August
| | | | |
| --- | --- | --- | --- |
| | | Friday 8/9/2013 5:00 PM | |
| | | | |
| --- | --- | --- | --- |
| | | Saturday 8/10/2013 TBD | |
| | | | |
| --- | --- | --- | --- |
| | | Saturday 8/10/2013 10:00 AM | |
| | | | |
| --- | --- | --- | --- |
| | | Sunday 8/11/2013 10:00 AM | |
| | | | |
| --- | --- | --- | --- |
| | | Sunday 8/11/2013 7:00 PM | |
| | | | |
| --- | --- | --- | --- |
| | | Monday 8/12/2013 11:00 AM | |
| | | | |
| --- | --- | --- | --- |
| | | Monday 8/12/2013 7:00 PM | |
| | | | |
| --- | --- | --- | --- |
| | | Tuesday 8/13/2013 11:00 AM | |
| | | | |
| --- | --- | --- | --- |
| | | Tuesday 8/13/2013 7:00 PM | |
| | | | |
| --- | --- | --- | --- |
| | | Wednesday 8/14/2013 11:00 AM | |
| | | | |
| --- | --- | --- | --- |
| | | Wednesday 8/14/2013 7:00 PM | |
| | | | |
| --- | --- | --- | --- |
| | | Thursday 8/15/2013 11:00 AM | |
| | | | |
| --- | --- | --- | --- |
| | | Thursday 8/15/2013 7:00 PM | |
| | | | |
| --- | --- | --- | --- |
| | | Friday 8/16/2013 11:00 AM | |
| | | | |
| --- | --- | --- | --- |
| | | Friday 8/16/2013 7:00 PM | |
| | | | |
| --- | --- | --- | --- |
| | | Saturday 8/17/2013 1:00 PM | |
| | | | |
| --- | --- | --- | --- |
| | | Saturday 8/17/2013 7:00 PM | |
| | | | |
| --- | --- | --- | --- |
| | | Sunday 8/18/2013 12:30 PM | |
Tennis Ticket News has great tickets to any or all sessions of the 2013 Western and Southern Open (also known as the Cincinnati Masters). The Western & Southern Financial Masters is an annual tennis tournament held in the Cincinnati suburb of Mason, Ohio, USA. The event started on September 18, 1899 and is currently the oldest tennis match in America enjoyed in its original city.
Name: Western & Southern Open 2013
Category: ATP World Tour Masters 1000
Place: Cincinnati, U.S.A
Date: 8/10/2013 – 8/18/2013
Draw Size: S-56 D-24
Surface: Hard
Prize Money: $3,079,555
The event is played at the Lindner Family Tennis Center in Mason, Ohio. It features three tennis stadiums, and is the only event not in the Grand Slam with more than two permanent stadiums. Lindner Family Tennis Center, first built in 1981 and enhanced over the years, includes a capacity of 10,500. The location features a total of 10 courts.
Past Western & Southern Open Champions
| | | |
| --- | --- | --- |
| Year | Singles | Doubles |
| 2012 | Roger Federer | Robert Lindstedt / Horia Tecău |
| 2011 | Andy Murray | Mahesh Bhupathi / Leander Paes |
| 2010 | Roger Federer | Bob Bryan / Mike Bryan |
| 2009 | Roger Federer | Daniel Nestor / Nenad Zimonjic |
| 2008 | Andy Murray | Bob Bryan / Mike Bryan |
| 2007 | Roger Federer | Jonathan Erlich / Andy Ram |
| 2006 | Andy Roddick | Jonas Bjorkman / Max Mirnyi |
| 2005 | Roger Federer | Jonas Bjorkman / Max Mirnyi |
| 2004 | Andre Agassi | Mark Knowles / Daniel Nestor |
| 2003 | Andy Roddick | Bob Bryan / Mike Bryan |
| 2002 | Carlos Moya | James Blake / Todd Martin |
| 2001 | Gustavo Kuerten | Mahesh Bhupathi / Leander Paes |
| 2000 | Thomas Enqvist | Todd Woodbridge / Mark Woodforde |
| 1999 | Pete Sampras | Jonas Bjorkman / Byron Black |
| 1998 | Patrick Rafter | Mark Knowles / Daniel Nestor |
| 1997 | Pete Sampras | Todd Woodbridge / Mark Woodforde |
| 1996 | Andre Agassi | Mark Knowles / Daniel Nestor |
| 1995 | Andre Agassi | Todd Woodbridge / Mark Woodforde |
| 1994 | Michael Chang | Alex O'Brien / Sandon Stolle |
| 1993 | Michael Chang | Andre Agassi / Petr Korda |
| 1992 | Pete Sampras | Todd Woodbridge / Mark Woodforde |
| 1991 | Guy Forget | Ken Flach / Robert Seguso |
| 1990 | Stefan Edberg | Darren Cahill / Mark Kratzmann |
| 1989 | Brad Gilbert | Ken Flach / Robert Seguso |
| 1988 | Mats Wilander | Rick Leach / Jim Pugh |