BNP Paribas Showdown Tickets 2014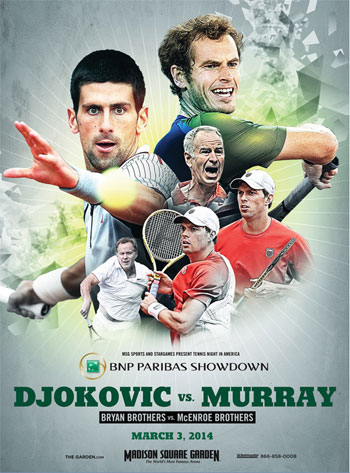 The 2014 BNP Paribas Showdown on March 3, 2014, which is also known as "Tennis Night in America," provides together 4 champion tennis players, with an exception of 6 this year with the double competition, competing in a one-night single elimination contest at Madison Square Garden. The BNP Paribas Showdown returns for its seventh year at the World's Most Famous Arena.
This year world No. 1 tennis player Novak Djokovic will play against Andy Murray while Bob and Mike Bryan will compete against brothers John and Patrick McEnroe. First up will be the doubles match that will begin at 7PM which will be an eight game pro set followed by a singles match for the best of three sets.
In 2013, the night consisted of Rafael Nadal playing against Juan Martin del Potro and Serena Williams squaring off with Victoria Azarenka. The winners were Serena Williams and Juan Martin del Potro. Tickets for the 2014 BNP Paribas Showdown can be found here.