Nadal, Ostapenko Win 2017 French Open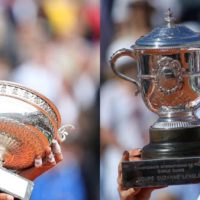 In the Men's French Open 2017 tournament, Rafael Nadal of Spain defeated Swiss player Stan Wawrinka in a 6-2, 6-3, 6-1 defeat at Roland-Garros with an amazing display of tennis. The win makes it Nadal's 10th title for the French Open Trophy and reaffirms his standing as the greatest clay player of all time.
In the Women's French Open tournament, a new star has been born! Jelena Ostapenko from Latvia beat Romanian player Simona Halep in a 4-6, 6-4, 6-3 win. Jalena came into the tournament unseeded and never winning a professional title of any kind! Jelena along with Martina Navratilova (in 1978 Wimbledon) are the only women tennis players in Open Era to win their first Grand Slam from being down a set in the Final.