Kerber, Wawrinka Win 2016 US Open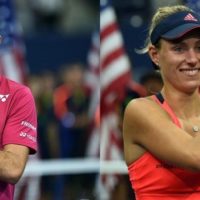 In the female US Open 2016 Tennis Tournament, Germany's Angelique Kerber won the US Open Title against Czech Republic Karolina Pliskova in a 6-3, 4-6, 6-4 Grand Slam defeat! Kerber also brought home the title in the Australian Open 2016 and was the runner-up at the 2016 Wimbledon Tournament.
In the men's US Open tournament, Switzerland's Stan Wawrinka defeated world number one Novak Djokovic from Serbia making it Wawrinka's first US Open of his career and third Grand Slam title. The final score was 6-7 (1-7), 6-4, 7-5, 6-3. Other Grand Slam Titles won by Wawrinka are the 2015 Australian Open and 2015 French Open.