Australian Open Tickets 2013
Australian Open in January
| | | | |
| --- | --- | --- | --- |
| | | Monday 1/13/2014 11:00 AM | |
| | | | |
| --- | --- | --- | --- |
| | | Monday 1/13/2014 7:00 PM | |
| | | | |
| --- | --- | --- | --- |
| | | Tuesday 1/14/2014 11:00 AM | |
| | | | |
| --- | --- | --- | --- |
| | | Tuesday 1/14/2014 7:00 PM | |
| | | | |
| --- | --- | --- | --- |
| | | Wednesday 1/15/2014 11:00 AM | |
| | | | |
| --- | --- | --- | --- |
| | | Wednesday 1/15/2014 7:00 PM | |
| | | | |
| --- | --- | --- | --- |
| | | Thursday 1/16/2014 11:00 AM | |
| | | | |
| --- | --- | --- | --- |
| | | Thursday 1/16/2014 7:00 PM | |
| | | | |
| --- | --- | --- | --- |
| | | Friday 1/17/2014 11:00 AM | |
| | | | |
| --- | --- | --- | --- |
| | | Friday 1/17/2014 7:00 PM | |
| | | | |
| --- | --- | --- | --- |
| | | Saturday 1/18/2014 11:00 AM | |
| | | | |
| --- | --- | --- | --- |
| | | Saturday 1/18/2014 7:00 PM | |
| | | | |
| --- | --- | --- | --- |
| | | Sunday 1/19/2014 11:00 AM | |
| | | | |
| --- | --- | --- | --- |
| | | Sunday 1/19/2014 7:00 PM | |
| | | | |
| --- | --- | --- | --- |
| | | Monday 1/20/2014 11:00 AM | |
| | | | |
| --- | --- | --- | --- |
| | | Monday 1/20/2014 7:00 PM | |
| | | | |
| --- | --- | --- | --- |
| | | Tuesday 1/21/2014 11:00 AM | |
| | | | |
| --- | --- | --- | --- |
| | | Tuesday 1/21/2014 7:00 PM | |
| | | | |
| --- | --- | --- | --- |
| | | Wednesday 1/22/2014 11:00 AM | |
| | | | |
| --- | --- | --- | --- |
| | | Wednesday 1/22/2014 7:00 PM | |
| | | | |
| --- | --- | --- | --- |
| | | Thursday 1/23/2014 11:00 AM | |
| | | | |
| --- | --- | --- | --- |
| | | Thursday 1/23/2014 7:00 PM | |
| | | | |
| --- | --- | --- | --- |
| | | Friday 1/24/2014 3:00 PM | |
| | | | |
| --- | --- | --- | --- |
| | | Saturday 1/25/2014 1:00 PM | |
| | | | |
| --- | --- | --- | --- |
| | | Sunday 1/26/2014 4:30 PM | |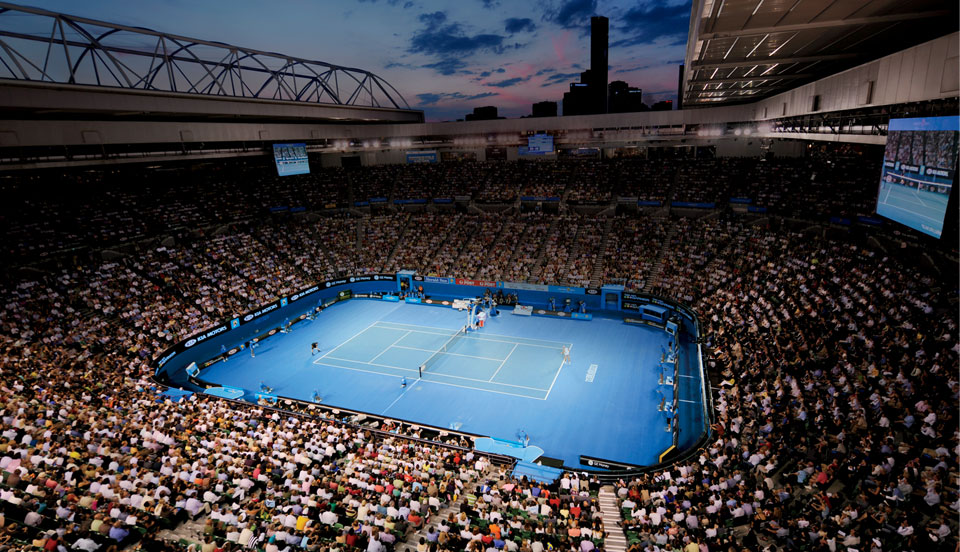 The Australian Open is one of four Grand Slam tennis competitions every year held. The other three Grand Slam tennis tournaments will be the French Open, the US Open, and Wimbledon. The 2013 Australian Open will be held on January 14 through January 27. The Australian Open tournament was at risk of fading into irrelevance before being revived in 1988 with a move to Melbourne Park, which is where it's been kept since. Like the other three Grand Slam events, it consists of many of the top-ranked tennis players.
Name: Australian Open
Category: Grand Slam
Place: Melbourne, Australia
Date: 1/14-2013 – 1/27/2013
Draw Size: S-128 D-64
Surface: Hard
Prize Money: $
Like the other Grand Slam events, the Australian Open has men's and women's singles competitions, men's doubles, women's doubles, and mixed junior, as well as doubles and master's competitions. The event is held at Rod Laver Arena. The Australian Open is famous for its hot nights, so an extreme-heat policy is usually put in play when temperatures and humidity reach harmful levels.
Past Champions
| | | |
| --- | --- | --- |
| Year | Singles | Doubles |
| 2012 | Novak Djokovic | Leander Paes / Radek Štěpánek |
| 2011 | Novak Djokovic | Bob Bryan / Mike Bryan |
| 2010 | Roger Federer | Bob Bryan / Mike Bryan |
| 2009 | Rafael Nadal | Bob Bryan / Mike Bryan |
| 2008 | Novak Djokovic | Jonathan Erlich / Andy Ram |
| 2007 | Roger Federer | Bob Bryan / Mike Bryan |
| 2006 | Roger Federer | Bob Bryan / Mike Bryan |
| 2005 | Marat Safin | Wayne Black / Kevin Ullett |
| 2004 | Roger Federer | Michael Llodra / Fabrice Santoro |
| 2003 | Andre Agassi | Michael Llodra / Fabrice Santoro |
| 2002 | Thomas Johansson | Mark Knowles / Daniel Nestor |
| 2001 | Andre Agassi | Jonas Bjorkman / Todd Woodbridge |
| 2000 | Andre Agassi | Ellis Ferreira / Rick Leach |
| 1999 | Yevgeny Kafelnikov | Jonas Bjorkman / Patrick Rafter |
| 1998 | Petr Korda | Jonas Bjorkman / Jacco Eltingh |
| 1997 | Pete Sampras | Todd Woodbridge / Mark Woodforde |
| 1996 | Boris Becker | Stefan Edberg / Petr Korda |
| 1995 | Andre Agassi | Jared Palmer / Richey Reneberg |
| 1994 | Pete Sampras | Jacco Eltingh / Paul Haarhuis |
| 1993 | Jim Courier | Danie Visser / Laurie Warder |
| 1992 | Jim Courier | Todd Woodbridge / Mark Woodforde |
| 1991 | Boris Becker | Scott Davis / David Visser |
| 1990 | Ivan Lendl | Pieter Aldrich / Danie Visser |
| 1989 | Ivan Lendl | Rick Leach / Jim Pugh |
| 1988 | Mats Wilander | Rick Leach / Jim Pugh |