Grand Slam Tournaments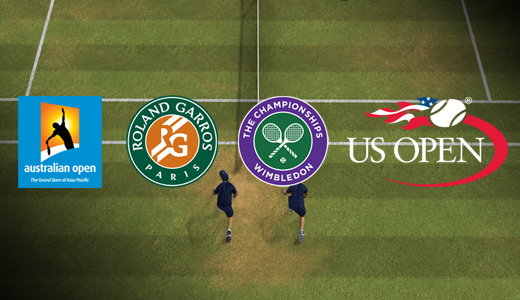 The 4 Grand Slam Tennis Tournaments include the:
These are the top 4 tennis tournaments featuring the best tennis players in the world.
Each year in January, the tennis season starts off with the Australian Open at the Rod Laver Arena in Melbourne Park in Melbourne, Victoria, Australia. The next Grand Slam Tournament is the French Open, which is held every year in May at Stade Roland Garros in Paris, France. The French Open is best known for its red clay courts and large center court, Court Philippe Chatrier. The third annual tournament held in late June is Wimbledon, also known as The Championship at Wimbledon. The Wimbledon tournaments take place on Centre Court at The All England Lawn Tennis and Croquet Club in Wimbledon, England and is the Grand Slam Tournaments most prestigious event. The last Grand Slam tournament of the year is the US Open held in Flushing Meadows Park in Corona, New York, United States. The US Open takes place at the end of August, and tournaments are held in two renowned stadiums: Arthur Ashe Stadium and Louis Armstrong Stadium.
In tennis, a player or doubles team that wins all 4 Grand Slam titles in exactly the same year is said to have accomplished the Grand Slam or a "Calender Year Grand Slam". If the player or group wins all repeatedly, but not in exactly the same twelve months, it is called a "Non-Calender Year Grand Slam". If a player wins all four at some point in his / her tennis career, even if not repeatedly, it is called a "Career Grand Slam". Winning three of the four competitions is named a "Small Slam".
The four Grand Slam tournaments are the most important tennis events of the year in terms of world ranking points, tradition, prize-money awarded, and public attention.