Federer, Vesnina win 2017 BNP Paribas Open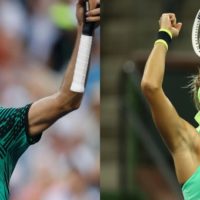 At 35 years old, Roger Federer is still going strong! He has won the BNP Paribas Open 2017 against Stan Wawrinka in a 4-6, 5-7 defeat. Federer has said "This has been a fairytale week once again. I came here for the first time 17 years ago. To be the champion again, I can't tell you what it means to me." This accomplishment is his second big win of the year after winning the Australian Open 2017 against Rafael Nadal.
In the women's tournament, pro player No. 14 Elena Vesnina defeated pro player No. 8 Svetlana Kuznetsova in a 7(8)-6(6), 5-7, 4-6 sweep. This triumph will put Vesnina up to No. 13 in the rankings!