Djokovic, Muguruza Win 2016 French Open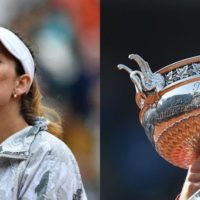 Novak Djokovic has won the 2016 French Open title against Andy Murray in a 3-6, 6-1, 6-2, 6-4 upset on Sunday. The title makes it Djokovic's fourth consecutive Grand Slam, having won Wimbledon in 2015, the US Open title in 2015 and the Australian Open in 2016. The Serb has won 28 consecutive major championships. The last professional tennis player to win all four Grand Slams in a row was Ron Laver back in 1969.
On Saturday, Garbine Muguruza of Venezula upstaged Number 1 player Serena Williams in a 7-5, 6-4 win making it her first Major Grand Slam Championship. She is the youngest Grand Slam winner since Victoria Azarenka won the title at the 2012 Australian Open.