Azarenka & Djokovic win Miami Open 2016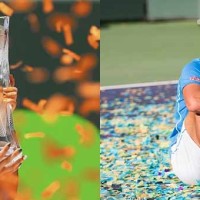 Victoria Azarenka has won the 2016 Miami Open playing against Svetlana Kuznetsova in a 6-3, 6-2 win. The former No. 1 Belarusian professional tennis player went into the Miami Open seeded at 13. She has won two tournaments in a row, the other being the BNP Paribas Open played two weeks ago in March. The victory takes her from World No. 8 to World No. 5.
In the Men's tournament Novak Djokovic beat Kei Nishikori in a 6-3, 6-3 final. The victory is Djokovic's third consecutive Miami Open and his sixth Miami Open title. Djokovic took away $1,028,300 making his career total $98,199,548.